Date/Time
Date(s) - 05/07/2017
11:00 am - 3:30 pm


Attending - 5
Available Spaces - 195

Location
Hebrew Educational Society 9502 Seaview Avenue Brooklyn NY 11236 Canarsie,
Categories
Healthy Living Expo, Brooklyn NY
Healthy Living Expo Brooklyn will have many businesses and service providers available for you to meet with and get to know.  This is a fantastic event and one that you should not miss.
Sunday May 7th, 2017
11 A.M. – 3:30 P.M.
Hebrew Educational Society, 9502 Seaview Avenue, Brooklyn NY 11236
Free Admission
PESID Founder Annette Fisher and Author of Seniors Get Your Ducks In A Row, will have a table at this event.  Annette is a Certified Senior Advisor, Licensed as a Real Estate Salesperson and Mortgage Loan Originator.  She will be able to speak with you about the other authors Robert Howe, Attorney – Dr. Marla Loughran, Chiropractor – Mary Marony R.N. Implementation of Electronic Medical Records – Debra S. Gross, Dietitian – Marie B. Sayour, Managing Partner RN Staffing, Non Medical Companion Services.  There may even be the possibility of meeting some of the other authors at the event.
Having resources at your finger tips when you need them relieves so much stress.  It's nice to get to know those who represent the resources in your community before you might actually need them.  I look forward to seeing you all there, Annette Fisher.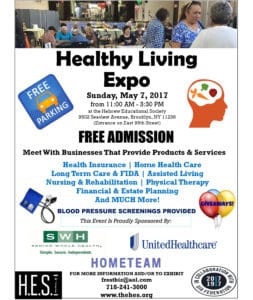 Meet with businesses that provide products & services.
Health Insurance
Home Health Care
Long Term Care & FIDA
Assisted Living
Nursing & Rehabilitation
Physical Therapy
Financial & Estate Planning
and Much More!
Blood Pressure Screenings Provided.
Make a list of questions you might have regarding services you or a loved one might need. Then go in search of what is most important to you at this type of event.  If you do not find the type of info you are in search of reach out to the service providers at the event.  Many times they can be of help in pointing you in the direction of people who can help, with what you are looking for.
If you can't find what you are looking for at this event you can always reach out to PESID members for help with resources.
Giveaways
This event is Proudly Sponsored By
Senior Whole Health (R)
United Healthcare (R)
H.E.S., JCC
For more information and or to exhibit
Contact: Felice Frost
frostbiz@aol.com
718-241-3000
Bookings
RSVPs are closed for this event.
Enter this Event to your calendar. See the links below.
iCal