Date/Time
Date(s) - 05/06/2017
2:00 pm - 4:00 pm


Attending - 4
Available Spaces - 196

Location
Jamaica Bay Wildlife Refuge 175-10 Cross Bay Boulevard Broad Channel NY
Categories
Denise P Levine, Art Exhibit and Reception
Denise P Levine is a life long Brooklyn Resident.  Her artwork literally speaks for itself.
PESID members are invited to enjoy the exhibit while networking to develop resources for seniors.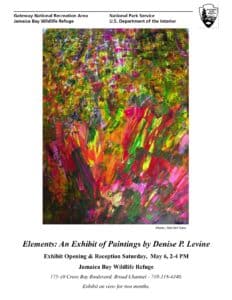 The reception is Saturday May 6, 2017
2 PM – 4 PM
Gateway National Park Recreation Area
Jamaica Bay Wildlife Refuge
175-10 Cross Bay Boulevard
718-318-4340  (in case you get lost)
I have known Denise for most of my life and have watched her artistic talent evolve.  The thing that I think resonates the most when I look at Denise's art is the ENERGY that seams to jump out of the canvas.
I hope you will make it to the event.  It will be fun to spend a Saturday afternoon together.
Denise P Levine celebrates life on every level. Denise is an accomplished psychotherapist, art therapist, and early childhood educator, she touches our vulnerability and opens us to new visions. An alchemist of emotion, tireless in her quest to care, share, and spread happiness, this artist creates community and healing. With its vibrant colors and inviting imagery, her art–in painting, drawing, and sculpture–is bold and passionate, both intricate and accessible.
Art is one of many integrated ways in which Denise seeks to explore and heal. Others include music and gardening. Indeed, her garden, also a work of art, appears in her painting. And, she co-founded The Healing House, a meditation and experiential learning center in upstate New York. This passionate artist and lover of life, a source of inspiration to many, uses her energy and creativity to offer a healing message through her art.
All artwork is the property of Denise P. Levine.  If you plan on taking any photos please ask Denise first.  Thank you, Annette Fisher
Bookings
RSVPs are closed for this event.
Enter this Event to your calendar. See the links below.
iCal